Colored Ziplock Bags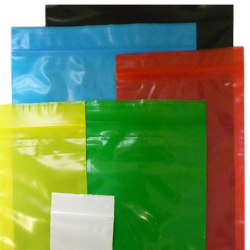 Colored Resealable Ziplock Bags are great for item differentiation and to color code your goods. These top quality colored, reclosable plastic bags feature a high quality zipper on top that will protect its contents, and are easy to pull open & pinch shut.
Great for everything, from products to sandwiches and more!
The yellow, red, green and blue bags are translucent. White and black plastic bags sizes 2x3 and up are opaque unless otherwise described. Although the white bag is made from white opaque film, because of its color it's not guaranteed that it'll be fully opaque.
Use our colored poly bags for product differentiation and to color code products.
With over a 100 different size & color options, you'll find the perfect colored plastic bag for your needs.
Colored bags are great for packaging your goods in an eye-catching way!
Loading.....
No products are currently available in this category.