Colored Reclosable Bags
Colored Reclosable Bags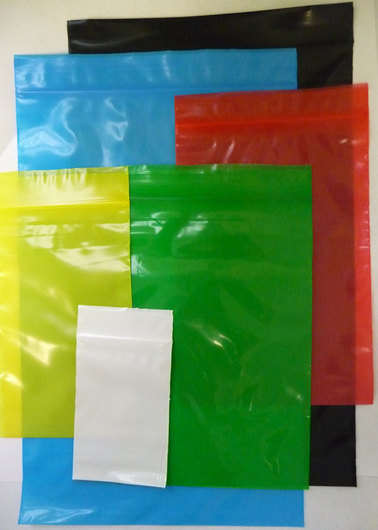 Top quality colored zip lock bags with a high quality zip for your products! Colored plastic bags are great for item differentiation and to color code products. Place your order today and we will ship the ziplock bags out to you right away.
Reclosable ziplock bags.
Use our colored poly bags for product differentiation and to color code products.
Colored bags are great for packaging your goods in an eye-catching way!
The yellow, red, green and blue bags are translucent.
White and black plastic bags sizes 2x3 and up are opaque unless otherwise described. Although the white bag is made from white opaque film, because of its color it is not guaranteed that your product will not show through.
Enter one or more quantity for one or more items and then click 'Add To Cart'.
Name
Case of
Price

Super Special!

3/8 x 3/8, 2 Mil Red Tint Reclosable Bags
25000
Reg. $138.00
Sale: $120.00
As low as: $102.00
10000
Reg. $60.00
Sale: $53.00
As low as: $45.05
1000
Reg. $6.25
Sale: $5.63
As low as: $4.79
1/2 x 1/2, 2 Mil Orange Tint Reclosable Bags
1000
$6.25
As low as: $5.31
1/2 x 1/2, 2 Mil Light Purple Tint Reclosable Bags
1000
$6.25
As low as: $5.31
1/2 x 1/2, 2 Mil Yellow Tint Reclosable Bags
1000
$6.25
As low as: $5.31
1/2 x 1/2, 2 Mil Pink Tint Reclosable Bags
1000
$6.25
As low as: $5.31
1/2 x 1/2, 2 Mil Red Tint Reclosable Bags
1000
$6.25
As low as: $5.31
1/2 x 1/2, 2 Mil Black Tint Reclosable Bags
1000
$6.25
As low as: $5.31
1/2 x 1/2, 2 Mil Blue Tint Reclosable Bags
1000
$6.25
As low as: $5.31
1/2 x 1/2, 2 Mil Green Tint Reclosable Bags
1000
$6.25
As low as: $5.31

* Special Price! *

5/8 x 5/8, 2 Mil Yellow Tint Reclosable Bags
1000
$5.30
As low as: $4.51
5/8 x 5/8, 2 Mil Red Tint Reclosable Bags
1000
$6.25
As low as: $5.31
5/8 x 5/8, 2 Mil Green Tint Reclosable Bags
1000
$6.25
As low as: $5.31

* Special Price! *

5/8 x 5/8, 2 Mil Blue Tint Reclosable Bags
1000
$5.30
As low as: $4.51
5/8 x 5/8, 2 Mil Orange Tint Reclosable Bags
1000
$6.25
As low as: $5.31
5/8 x 5/8, 2 Mil Pink Tint Reclosable Bags
1000
$6.25
As low as: $5.31

* Special Price! *

5/8 x 5/8, 2 Mil Light Purple Tint Reclosable Bags
1000
$5.30
As low as: $4.51
3/4 x 3/4, 2 Mil Yellow Tint Reclosable Bags
1000
$6.25
As low as: $5.31
3/4 x 3/4, 2 Mil Pink Tint Reclosable Bags
1000
$6.25
As low as: $5.31
3/4 x 3/4, 2 Mil Orange Tint Reclosable Bags
1000
$6.25
As low as: $5.31
3/4 x 3/4, 2 Mil Blue Tint Reclosable Bags
1000
$6.25
As low as: $5.31
3/4 x 3/4, 2 Mil Green Tint Reclosable Bags
1000
$6.25
As low as: $5.31
3/4 x 3/4, 2 Mil Red Tint Reclosable Bags
1000
$6.25
As low as: $5.31
3/4 x 3/4, 2 Mil Light Purple Tint Reclosable Bags
1000
$6.25
As low as: $5.31
3/4 x 3/4, 2 Mil Black Tint Reclosable Bags
1000
$6.25
As low as: $5.31
1 x 3/4, 2 Mil Orange Tint Reclosable Bags
1000
$6.25
As low as: $5.31
1 x 3/4, 2 Mil Blue Tint Reclosable Bags
1000
$6.25
As low as: $5.31
1 x 3/4, 2 Mil Yellow Tint Reclosable Bags
1000
$6.25
As low as: $5.31
1 x 3/4, 2 Mil Black Tint Reclosable Bags
1000
$6.25
As low as: $5.31
1 x 3/4, 2 Mil Pink Tint Reclosable Bags
1000
$6.25
As low as: $5.31
1 x 3/4, 2 Mil Green Tint Reclosable Bags
1000
$6.25
As low as: $5.31
1 x 3/4, 2 Mil Light Purple Tint Reclosable Bags
1000
$6.25
As low as: $5.31
1 x 3/4, 2 Mil Red Tint Reclosable Bags
1000
$6.25
As low as: $5.31
1 x 1, 2 Mil Orange Tint Reclosable Bags
1000
$6.25
As low as: $5.31
1 x 1, 2 Mil Black Tint Reclosable Bags
1000
$6.25
As low as: $5.31
1 x 1, 2 Mil Light Purple Tint Reclosable Bags
1000
$6.25
As low as: $5.31
1 x 1, 2 Mil Yellow Tint Reclosable Bags
60000
$190.00
As low as: $161.50
1000
$6.25
As low as: $5.31
1 x 1, 2 Mil Blue Tint Reclosable Bags
60000
$190.00
As low as: $161.50
1000
$6.25
As low as: $5.31
1 x 1, 2 Mil Red Tint Reclosable Bags
1000
$6.25
As low as: $5.31
1 x 1, 2 Mil Green Tint Reclosable Bags
1000
$6.25
As low as: $5.31
1.25 x 3/4, 2 Mil Orange Tint Reclosable Bags
1000
$6.25
As low as: $5.31
1.25 x 3/4, 2 Mil Blue Tint Reclosable Bags
1000
$6.25
As low as: $5.31
1.25 x 3/4, 2 Mil Green Tint Reclosable Bags
1000
$6.25
As low as: $5.31
1.25 x 3/4, 2 Mil Pink Tint Reclosable Bags
1000
$6.25
As low as: $5.31
1.25 x 3/4, 2 Mil Yellow Tint Reclosable Bags
1000
$6.25
As low as: $5.31
1.25 x 1, 2 Mil Black Tint Reclosable Bags
1000
$6.25
As low as: $5.31
1.25 x 1, 2 Mil Orange Tint Reclosable Bags
50000
$275.00
As low as: $233.75
1000
$6.25
As low as: $5.31
1.25 x 1, 2 Mil Yellow Tint Reclosable Bags
50000
$275.00
As low as: $233.75
1000
$6.25
As low as: $5.31
1.25 x 1, 2 Mil Light Purple Tint Reclosable Bags
50000
$275.00
As low as: $233.75
1000
$6.25
As low as: $5.31
1.25 x 1, 2 Mil Blue Tint Reclosable Bags
1000
$6.25
As low as: $5.31
1.25 x 1, 2 Mil Green Tint Reclosable Bags
50000
$275.00
As low as: $233.75
1000
$6.25
As low as: $5.31
1.25 x 1, 2 Mil Pink Tint Reclosable Bags
50000
$275.00
As low as: $233.75
1000
$6.25
As low as: $5.31
1.25 x 1, 2 Mil Red Tint Reclosable Bags
50000
$275.00
As low as: $233.75
1000
$6.25
As low as: $5.31
1.25 x 1.25, 2 Mil Orange Tint Reclosable Bags
50000
$275.00
As low as: $233.75
1000
$6.25
As low as: $5.31
1.25 x 1.25, 2 Mil Green Tint Reclosable Bags
50000
$275.00
As low as: $233.75
1000
$6.25
As low as: $5.31
1.25 x 1.25, 2 Mil Black Tint Reclosable Bags
1000
$6.25
As low as: $5.31
1.25 x 1.25, 2 Mil Pink Tint Reclosable Bags
1000
$6.25
As low as: $5.31
1.25 x 1.25, 2 Mil Yellow Tint Reclosable Bags
50000
$275.00
As low as: $233.75
1000
$6.25
As low as: $5.31
1.25 x 1.25, 2 Mil Red Tint Reclosable Bags
50000
$275.00
As low as: $233.75
1000
$6.25
As low as: $5.31
1.25 x 1.25, 2 Mil Light Purple Tint Reclosable Bags
50000
$275.00
As low as: $233.75
1000
$6.25
As low as: $5.31
1.25 x 1.25, 2 Mil Blue Tint Reclosable Bags
1000
$6.25
As low as: $5.31
1.5 x 1, 2 Mil Green Tint Reclosable Bags
1000
$6.25
As low as: $5.31
1.5 x 1, 2 Mil Pink Tint Reclosable Bags
1000
$6.25
As low as: $5.31
1.5 x 1, 2 Mil Orange Tint Reclosable Bags
1000
$6.25
As low as: $5.31
1.5 x 1, 2 Mil Dark Purple Tint Reclosable Bags
1000
$6.25
As low as: $5.31
1.5 x 1, 2 Mil Red Tint Reclosable Bags
1000
$6.25
As low as: $5.31
1.5 x 1, 2 Mil Blue Tint Reclosable Bags
1000
$6.25
As low as: $5.31
1.5 x 1.5, 2 Mil Green Tint Reclosable Bags
50000
$275.00
As low as: $233.75
1000
$6.25
As low as: $5.31
1.5 x 1.5, 2 Mil Orange Tint Reclosable Bags
50000
$275.00
As low as: $233.75
1000
$6.25
As low as: $5.31
1.5 x 1.5, 2 Mil Red Tint Reclosable Bags
50000
$275.00
As low as: $233.75
1000
$6.25
As low as: $5.31
1.5 x 1.5, 2 Mil Pink Tint Reclosable Bags
50000
$275.00
As low as: $233.75
1000
$6.25
As low as: $5.31
1.5 x 1.5, 2 Mil Blue Tint Reclosable Bags
1000
$6.25
As low as: $5.31
1.5 x 1.5, 2 Mil Yellow Tint Reclosable Bags
50000
$275.00
As low as: $233.75
1000
$6.25
As low as: $5.31
1.5 x 1.5, 2 Mil Light Purple Tint Reclosable Bags
1000
$6.25
As low as: $5.31
1.5 x 1.5, 2 Mil Black Tint Reclosable Bag
1000
$6.25
As low as: $5.31
2 x 2, 2 Mil Blue Tint Reclosable Bags
1000
$15.65
As low as: $13.30
2 x 2, 2 Mil Green Tint Reclosable Bags
1000
$15.65
As low as: $13.30
2 X 3, 2 Mil WHITE Colored Reclosable Bag
1000
$19.75
As low as: $16.79
2 X 3, 2 Mil YELLOW Colored Reclosable Bag
1000
$19.75
As low as: $16.79
2 X 3, 2 Mil RED Colored Reclosable Bag
1000
$19.75
As low as: $16.79
2 X 3, 2 Mil BLUE Colored Reclosable Bag
1000
$19.75
As low as: $16.79
2 X 3, 2 Mil GREEN Colored Reclosable Bag
1000
$19.75
As low as: $16.79
2 X 3, 2 Mil BLACK Opaque Colored Reclosable Bag
1000
$19.75
As low as: $16.79
3 X 5, 2 Mil BLACK Opaque Colored Reclosable Bag
1000
$26.50
As low as: $22.53
3 X 5, 2 Mil YELLOW Colored Reclosable Bag
1000
$26.50
As low as: $22.53
3 X 5, 2 Mil WHITE Colored Reclosable Bags
1000
$26.50
As low as: $22.53
3 X 5, 2 Mil BLACK TINTED Reclosable Bag

Product put inside the bag can be seen

1000
$26.50
As low as: $22.53
500
$14.50
As low as: $12.33
3 X 5, 2 Mil GREEN Colored Reclosable Bag
1000
$26.50
As low as: $22.53
3 X 5, 2 Mil BLUE colored reclosable bag
1000
$26.50
As low as: $22.53
3 X 5, 2 Mil RED Colored Reclosable Bag
1000
$26.50
As low as: $22.53
4 X 6, 2 Mil BLUE Colored Reclosable Bag
1000
$34.50
As low as: $29.33
4 X 6, 2 Mil YELLOW Colored Reclosable Bag
1000
$34.50
As low as: $29.33
4 X 6, 2 Mil GREEN Colored Reclosable Bags
1000
$34.50
As low as: $29.33
4 X 6, 2 Mil BLACK Opaque Colored Reclosable Bag
1000
$34.50
As low as: $29.33
4 X 6, 2 Mil WHITE Colored Reclosable Bag
1000
$34.50
As low as: $29.33
4 X 6, 2 Mil RED Colored Reclosable Bag
1000
$34.50
As low as: $29.33
6 X 9, 2 Mil RED Colored Reclosable Bag
1000
$64.75
As low as: $55.04
6 X 9, 2 Mil GREEN Colored Reclosable Bag
1000
$64.75
As low as: $55.04
6 X 9, 2 Mil BLUE Colored Reclosable Bags
1000
$64.75
As low as: $55.04
6 X 9, 2 Mil YELLOW Colored Reclosable Bag
1000
$64.75
As low as: $55.04
6 X 9, 2 Mil WHITE Colored Reclosable Bag
1000
$64.75
As low as: $55.04
6 X 9, 2 Mil BLACK Opaque Colored Reclosable Bag
1000
$64.75
As low as: $55.04
8 X 10, 2 Mil GREEN Colored Reclosable Bag
1000
$80.75
As low as: $68.64
500
$52.44
As low as: $44.57
100
$14.70
As low as: $12.50
8 X 10, 2 Mil WHITE Colored Reclosable Bag
1000
$80.75
As low as: $68.64
8 X 10, 2 Mil YELLOW Colored Reclosable Bag
1000
$80.75
As low as: $68.64
8 X 10, 2 Mil RED Colored Reclosable Bag
1000
$80.75
As low as: $68.64
8 X 10, 2 Mil BLACK Opaque Colored Reclosable Bag
1000
$80.75
As low as: $68.64
8 X 10, 2 Mil BLUE Colored Reclosable Bag
1000
$80.75
As low as: $68.64
100
$14.70
As low as: $12.50
9 X 12, 2 Mil GREEN Colored Reclosable Bag
1000
$96.50
As low as: $82.03
9 X 12, 2 Mil WHITE Colored Reclosable Bag
1000
$96.50
As low as: $82.03
9 X 12, 2 Mil YELLOW Colored Reclosable Bag
1000
$96.50
As low as: $82.03
9 X 12, 2 Mil RED Colored Reclosable Bag
1000
$96.50
As low as: $82.03
100
$17.56
As low as: $14.93
9 X 12, 2 Mil BLACK Opaque Colored Reclosable Bags
1000
$96.50
As low as: $82.03
9 X 12, 2 Mil BLUE Colored Reclosable Bag
1000
$96.50
As low as: $82.03