Compostable Ziplock Bags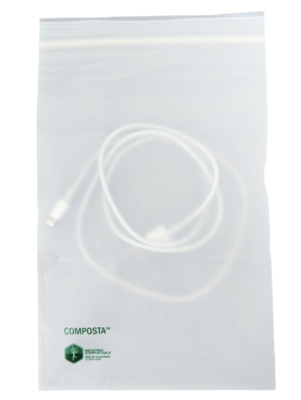 Showing your commitment to the circular economy has never been easier.
Compostable zipper bags are a great alternatives to the standard LDPE clear zip lock storage bags, and are comparable in strength to our 2Mil bags. Due to the makeup of the bags they are cloudier then standard LDPE and not completely see-through. They have an ivory color in look, and the product can be seen through once put in the bag. The convenient zipper closure secures the contents and keeps them fresh. They are fully compostable and food safe.
The Compostable Film is certified to break down according to ASTM D6400 standards. It will decompose within 90 days under compostable conditions.
It is best to store the bags in a facility that is dry and where the temperature does not exceed 60℃. Please prevent them from water, soil, and sunshine so the bags do not start decomposing prior to use.
The shelf life of these compostable bags is 12 months.
Please be aware when using this bag with hot machinery that the biodegradable material is temperature sensitive. Each user of the material should make their own tests to determine the specific products suitability for their particular application. Users must make their own determination of its safety, lawfulness, and technical suitability in its intended application.
Compostable bags can be custom ordered for size and print. Due to their makeup, the printing on these bags are limited.
Made from compostable PLA bio-resin
Industrial compostable - Meets ASTM D6400 standards
Translucent frosted material allows contents to be visible
Durable material provides grease and moisture barrier
Loading.....
No products are currently available in this category.