Returnable Poly Mailers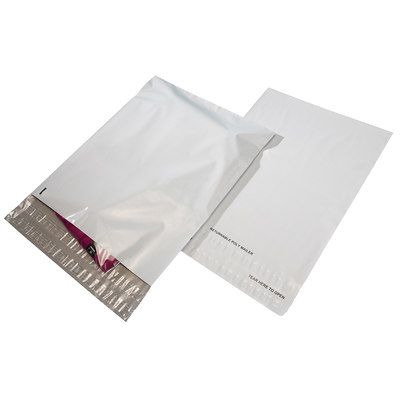 Our returnable poly mailers are ideal for shipping supplies due to their durable co-extruded poly. This poly offers more protection than other poly mailers, making these reusable mailers perfect to withstand overstuffing and the wear and tear of shipping.
Our returnable poly mailers feature a perforated strip so they're simple to open. These returnable mailers also have two adhesive strips - one to be used when the mailer is first shipped and a second strip for when the mailer is returned.
Returnable Poly Bags Features:
Returnable polyethylene mailers are opaque on the outside and silver on the inside. The white color allows customers to discreetly receive their items and makes them less likely to be stolen.
Poly mailer has a 3" lip.
Polybag has an adhesive double strip that makes it simple for customer returns.
Returnable poly mailer has an adhesive strip that is self-sealing, ensuring that your items won't be lost during shipping.
USPS approved for shipping.
Loading.....
No products are currently available in this category.
Filters:
No filters available
No products matched the filter(s) you selected.
Name
Case of
Price
Reg.
Sale:
As low as:

Out of stock


Expected date:
Notify me
Reg.
Sale:
As low as:
There are a number of reasons to stock up on RoyalBag's returnable mailers, including saving money, protecting the environment, and improving your customers' experience.
Save Money with Reusable Shipping Bags
Our returnable poly mailers make it easy for customers to save money by shipping in our packaging. The lightweight nature of the mailers allows customers to spend less money on the overall weight of the package being shipped.
Additionally, returnable poly bags save you time and effort. Since your original label will be on the poly mailer, you'll be able to quickly identify the item and the customer that it has been returned from. This allows you to more quickly process your returns because you won't be looking for a newly printed label on a different kind of packaging that a customer may send to you.
Returnable Shipping Bags Are Better For The Environment
These days, it seems that almost every business and brand is worried about its carbon footprint because most customers want to make purchases online that don't have too negative of an effect on the climate. Returnable poly mailers allow for a customer to buy in peace because the tear-resistant packaging means that the poly bags can be used numerous times before they need to be thrown away. Our poly bags are also recyclable which allows for an even lower impact on the environment.
A unique packaging feature that the returnable poly bags possess is their second adhesive strip. When a customer ships their product back to you, the mailing process is extremely simple. All they need to do is take off the covering on the second adhesive strip and the bag will be ready for shipping. The durable design of the poly bags helps to protect your product and makes sure that items return to your store safely.
Improve The Customer Experience With A Self-Sealing Tear Strip
There's nothing worse for a customer's first interaction with their newest purchase than when they can't get their shipping bag to open. Luckily, our self-sealing tear strips on our returnable poly mailers are easy to open and help to mitigate the chances of this poor customer experience.
Additionally, the poly bags' opaque coloring makes it extremely easy for you to create custom bags by having your own logo or company name placed on the poly mailer. This gives you another opportunity to advertise your brand to your customers.
RoyalBag continues to be one of the most reliable producers in the shipping and packaging industry. When you purchase from us, we ensure that you're getting the best cost, highest quality, and fast shipping.
Low-Cost Poly Mailers
With our returnable poly bags, we offer competitive pricing and work to offer you a low price without skimping on the quality of our packaging.
High-Quality Poly Bags
Finding a high-quality poly mailer is especially important when you're looking for a mailer that can be shipped time and time again. Our poly mailers ensure your products can safely reach your customer due to their tear-resistant polyethylene material. Even more importantly, since the bags are self-sealing with their adhesive strip, it's extremely difficult for a customer to botch the return process. Therefore, more of your products will make it safely through the delivery process, lowering your overall cost.
Fast Shipping For Your Poly Mailers
We know what it's like to be waiting on supplies so you can ship your next order to your customers. That's why we put in every effort to make shipping a breeze and get our products to you quickly. We make shipping your products easy by quickly shipping our products to you.
We offer numerous options for the size of poly mailer that fits your items best. Please check out our options above and decide which is best for your shipping supplies!
Below, we address some of the main questions prospective customers may have about poly mailers.
What types of products can be shipped with returnable poly mailers?
Any product that isn't easily broken. One of the main benefits of poly bags is their versatility. Our shipping bags allow for almost any product to be shipped safely. Therefore, when your buyers have custom orders, you don't have to worry about any items arriving damaged.
Why are returnable poly mailers better than boxes for some products?
One of the main reasons that our customers prefer to use poly mailers for their products is because they can cost less to ship. Typically boxes cost more to ship due to their bulk. With poly mailers this isn't the case. One popular product to be shipped in poly mailers is clothing. Since poly mailers are lightweight and can lay flat, they typically cost much less when being shipped.
If you're debating whether poly mailers or boxes are the solutions for your shipping woes, ask yourself the following questions:
Is the product you're shipping fragile?
If the answer is yes, then a poly mailer likely isn't for you. Although our poly mailers are extremely durable, they can't prevent a fragile item from being smashed.
Will your products fit into the sizes listed below?
If yes, then our poly mailers are perfect for you. Poly mailers are also better for being slightly stretched than boxes are.
Do returnable poly mailers cost less than boxes?
Typically, yes! Not only do poly mailers cost less to ship, but (generally) they also cost less to purchase.