Easy Open Poly Mailers with Perforation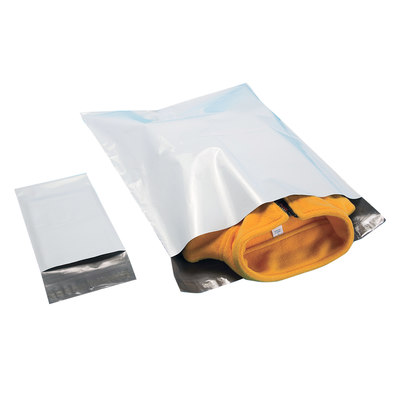 These 2.5 Mil perforated Poly Mailers are perforated below the tape, allowing your customer to easily tear open the mailer/envelope upon receipt of their order. The lip size where the tape is located is 1.5" or 2" depending on the size of the mailer. These tear-resistant and durable bags are perfect for when you need a strong but economical way to ship your product.
Perforated Polyethylene Bags Features:
Poly bags are tamper-evident because of their self-seal adhesive strip.
Perforated poly bags' possess packaging that is a discreet opaque color. The exterior is white and the interior is silver, making it simple for the delivery service to see an address label.
These bags are micro-perforated, making them simpler to open than some other mailers with perforation.
The plastic from our bags is recyclable.
Our bags' thickness makes them extremely durable and ensures they won't receive holes in them- even if they have a long trip to your store.
You can choose a different width or length of the mailer to fit with your most commonly purchased items.
Loading.....
No products are currently available in this category.
Filters:
No filters available
No products matched the filter(s) you selected.
Name
Case of
Price
Reg.
Sale:
As low as:

Out of stock


Expected date:
Notify me
Reg.
Sale:
As low as:
These bags are perfect for shipping all of your items due to the durable thickness they possess. The micro-perforated strip allows for a positive customer experience because customers can easily open the bag when it arrives from your shop.
The micro-perforated tear strip is in an obvious location, so your customers won't have to search for it when their envelope arrives. As a result, these mailers will be your company's new bread and butter!
Normally, the price to ship micro-perforated bags is lower than shipping a box would be. This is because a box's size takes up more space than a mailer's does. Usually, boxes also cost more to purchase.
Easy To Open & Close Mailers Save Your Shipping Team Time
Shipping items in these bags is also extremely easy for your employees because they can quickly close the plastic bag with its self-seal, adhesive strip and then move to shipping the next item. Not only will shipping with the mailers save your teams' time, but it'll also save you money since you won't have to purchase tape for boxes.
We quality check all of our products to make sure that our bags have the proper thickness and are durable enough that they won't receive holes in them as they make their way to your store.
Unbranded Bags
Our bags with perforations are a grey'ish white color on the outside. This allows you to advertise to your customers when they purchase items from you by adding your logo or company name onto the packaging.
Numerous Sizes To Choose From
Each of our perforated bags can come in a different width or length. This means that no matter which of your items a customer adds to their shopping cart, you'll have a bag that's the proper size for them.
We Offer A Fair Price
We want it to be clear that no matter the stage of your company, we have a price that fits well with your budget. We offer discounts when a business does their shopping in bulk and large quantities on our site! Check out the list of our different bag sizes above to easily add an order to your shopping cart.