Resealable Self-Seal Bags with Suffocation Warning and Vent Holes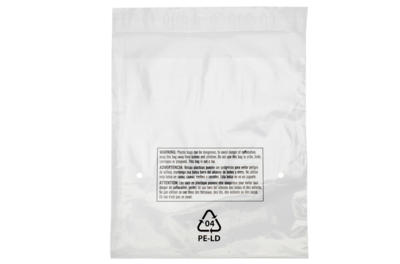 These Self-Seal Poly Bags have two 1/4" vent holes to allow air to escape, so the items you package take up less shipping space. The bags are resealable and feature a warning to alert its users to its potential choking hazard to babies and children. The bag is printed with a suffocation warning message in three languages, English, Spanish, and French.
FDA compliant
Suffocation Warning Bags comply with the Amazon packaging requirements & guidelines
Easy to close with 1.5" adhesive lip, Just peel off strip and fold lip to seal – no heat sealer required.
Constructed with two 1/4" vent holes for air to escape.
Note: Length is measured from beneath the lip
Loading.....
No products are currently available in this category.