Poly Mailers with 50% PCR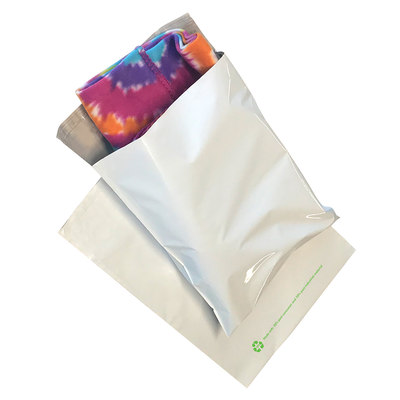 Polymailers with 50% PCR
2.5Mil Polymailers with 50% Recycled Material
Our 2.5 mil thick polymailers are now made from 50% recycled material. We're shifting our production practices so our clients can achieve their packaging goals without sacrificing quality. Each of our 2.5 mil thick polymailers are manufactured with 30% post-consumer recycled (PCR) material and 20% post-industrial recycled (PIR) material.
As a result, we're keeping plastic out of landfills and giving it a second life to create our products.Even though our polymailers are better for the environment than regular mailers, we never sacrifice product quality. Each of our lightweight 2.5 mil thick polymailers are incredibly durable, so you don't have to worry about your goods being destroyed during the shipping process.
Each of these mailing bags contain a grey interior and a thick white exterior to ensure the privacy of the items that are being shipped. Not only does this give your buyers a sense of privacy, but it also reduces the likelihood that the items being shipped will be stolen.
Flexible, durable, and water-resistant
Printed with the standard recycling messages
Tear and puncture resistant
Contain an easy to use "peel and seal" closure
Tamper evident to help ensure that your products arrive safely
Loading.....
No products are currently available in this category.
Filters:
No filters available
No products matched the filter(s) you selected.
Name
Case of
Price
Reg.
Sale:
As low as:

Out of stock


Expected date:
Notify me
Reg.
Sale:
As low as:
The Differences Between PCR And PIR
Post-industrial recycled (PIR) plastic resins are created from plastic waste that is generated throughout the manufacturing process and never left during a product's production. For example, if an item has extra plastic that would normally go to waste after production, but is instead reused during the next production of bags, it's a PIR.
Post-consumer recycled (PCR) plastic resins come from different kinds of waste that consumers toss when they no longer want a product. PCR is associated more closely with what we think of as "traditional" recycling.
The easiest way to tell the difference is to keep in mind that PIR resins never reach a buyer before they're recycled whereas PCR is actually collected from consumers. Utilizing both kinds of resins in our products help cut down on the amount of plastic that ends up in landfills!