Poly Mailers with 100% PCR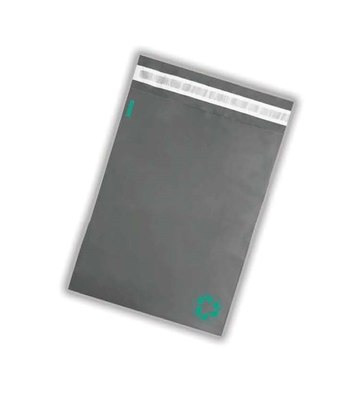 Polymailers made with 100% Post Consumer Recycled Materials
Our 2 mil polymailer bags are created from 100% post-consumer recycled (PCR) materials. We care about offering sustainable packaging solutions to our clients without sacrificing durability, and we're looking to help you match your business' environmental initiatives.
Our lightweight mailers are manufactured from high-end PCR materials that ensure the goods you're shipping will arrive at their intended destination in the same condition as when you shipped them. We're on a mission to prove that durability, functionality, and sustainability can come together.
These sustainable polymailers conceal the item being shipped with a grey interior and exterior so privacy is guaranteed. Our PCR mailers are flexible, tear-resistant, and water-resistant, so you don't have to worry about an item being damaged on its journey.
100% Post Consumer Recycled Material
Lower carbon footprint than recycled paper mailers
Withstands tampering and puncturing for greater security
Easy peel-and-seal permanent tape closure
Grey interior and exterior for optimal privacy
Loading.....
No products are currently available in this category.
Filters:
No filters available
No products matched the filter(s) you selected.
Name
Case of
Price
Reg.
Sale:
As low as:

Out of stock


Expected date:
Notify me
Reg.
Sale:
As low as:
Why Are PCR Mailers More Sustainable Than Paper Mailers?
PCR polymailers require less energy to be produced than paper mailers do. By creating PCR polymailers, we're diverting plastic from ending up in a landfill while paper mailers will still need to be recycled and, usually, lack the durability to be created into a mailer again. Even better, our 100% PCR polymailers can be recycled time and time again.