Perforated Poly Mailers with 50% PCR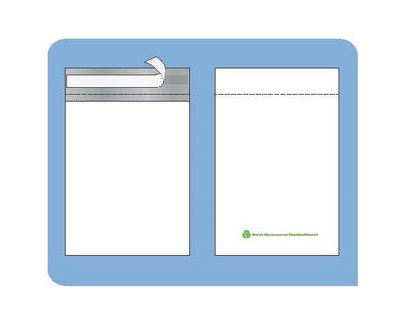 2.5Mil Polymailers with 50% Recycled Material and Perforated Tear Strip
Our 2.5 mil-thick polymailers with a perforated tear strip have officially been updated! Our polymailers are now made from 50% post-consumer recycled (PCR) materials, so they have a much lower carbon footprint. We're making our products more sustainable so our clients can more easily reach their environmental intiatives without giving up the high-quality they're used to from our products.
Our 2.5MIl polymailers feature a perforated tear strip, so your customers will be able to easily and quickly open mailer when they receive it. We also ensure every item's privacy by designing these polymailers with an opaque grey interior and white exterior. Our polymailers are also extremely durable and tear-resistant so you can feel confident that your good will arrive in the same condition that you shipped them in.
Our polymailers are micro-perforated, which makes them simpler to open than mailers without micro-perforation.
Made from 50% recycled material
Mailers are tamper-evident and puncture proof to ensure shipping safety and durability.
Mailers utilize an easy to use peel-and-seal closure for efficient packaging
Loading.....
No products are currently available in this category.
Filters:
No filters available
No products matched the filter(s) you selected.
Name
Case of
Price
Reg.
Sale:
As low as:

Out of stock


Expected date:
Notify me
Reg.
Sale:
As low as:
Each of our polymailers are printed with the standard recycle message, so your customers will know that your business taking steps to lessen its carbon footprint. These mailers are made from 30% PCR and 20% post-industrial recycled (PIR) material. PIR comes from waste that never even leaves our facility, allowing us to cut down on waste at the source.
Why Use A Mailer With Micro-Perforation?
At RoyalBags, we want all of our customers to have the best user experience available. That's why we include micro-perforation in our polymailers. With this easy to open tear-strip, your consumers will never struggle to open a package when it arrives.
Your costumers will be happy that they could easily and quickly access their purchased item, and that will allow them to simply focus on their purchase - instead of being distracted by a snag in shipping packaging.