Antistat Ziplock Bags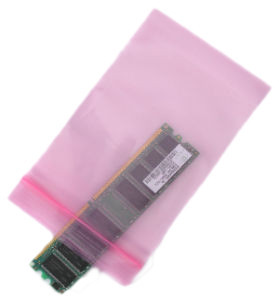 More Antistat Bags More Colored Bags
Our reclosable pink antistatic bags are perfect for packaging electronical components to prevent ESD - electrostatic discharge. Each anti-static reclosable bag features a prime quality zipper that will protect its contents. Just choose the bag you need and we will ship it to you right away.
Static resistance against sensitive electronic parts.
Pink see-through material makes item viewing and handling easy.
Our 4 Mil Pink Anti Static bags qualify as type II under MIL-B-81705B
Amine Free.
Pink color makes the bags easily identifiable.
Meets the static decay Requirements of MIL-PRF-81705E, Type II and EIA-541
Electrostatic discharge (ESD) is the sudden flow of electricity between two electrically charged objects caused by contact, an electrical short, or dielectric breakdown. A buildup of static electricity can be caused by tribocharging or by electrostatic induction. Use our anti static bags to prevent ESD!
Loading.....
No products are currently available in this category.