Metallic Static Shielding Reclosable Bags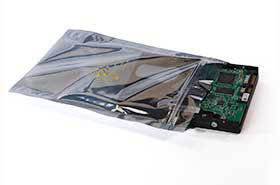 Our transparent metallic static shielding bags provide Faraday Cage protection and visibility for highly-sensitive components. These bags meet the electrical and physical requirements of ANSI/ESD S541, EIA 625 and are ANSI/ESD S20.20 program compliant. Tested per MIL-STD-3010 4046 and ANSI/ESD STM11.11.
Polyethylene, Polyester, Aluminum Layers with an Antistatic Coating.
Reclosable ziplock top closure.
Store at temperatures less than 120°F. Avoid Exposure to direct sunlight.
Complies with California Proposition 65 and all applicable CONEG heavy metal restrictions.
Loading.....
No products are currently available in this category.