Red Reclosable Zip Lock Biohazard Waste Bags 12 x 15, 2 Mil
2 Gallon
Item #: RBM1215.2R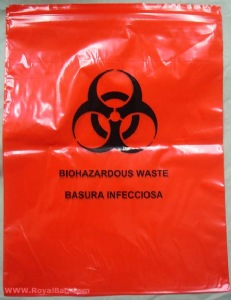 ---
Width:
12 inches
Length:
15 inches
Thickness:
2 Mil

(0.002 inch)

Color:
Red
Material:
Polyethylene
Overview:
Our 12 x 15, 2 Mil Biohazard Infectious Waste, Red Reclosable Bags are pre-printed with the Bio-Hazard symbol and the Biohazard Waste message. Used to dispose of biohazard contaminated waste that require they go in these red bags. These 2 Gallon Red Bio Waste Bags come with our quality zip lock top closure and are resealable. Commonly used when disposing swabs, tissues, bandages and many other contaminated medical waste that require red colored and clearly marked bags.
For large biohazard waste liners, see our Biohazard Waste Liners for Infectious Waste.
A Top quality recloseable medical specimen bag with a high quality zip that protects your sample.
All virgin polyethylene meets FDA and USDA requirements.
Our medical plastic bags are useful in laboratories and in hospitals to securely transfer specimens and paperwork.
View all Biohazard Specimen Ziplock Bags sizes
---
Reviews: