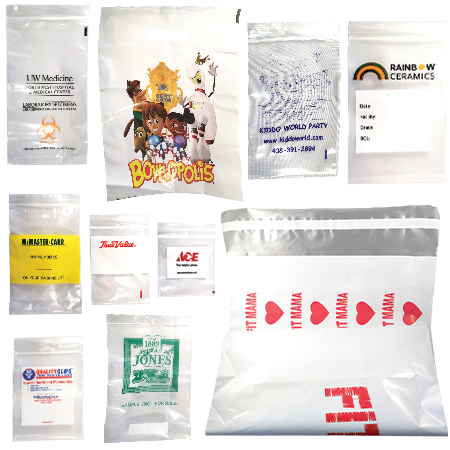 Custom Printed Ziplock Bags & Poly Mailers
Create your own custom ziplock and reclosable bags with options to print your logo, adjust size and add features. Some features include custom barcode, split compartment, vent holes and the ability to choose up to 8 bag colors. Open end and tamper-evident bags are available too. Get started by filling out the Request A Quote form.
Custom Print:
Remove the hassle of using labels and print directly on your bags!
Printed poly mailers and poly bags give your product a professional appeal and are a clever way to advertise your company. Plastic bags with a custom printed logo make a great container for your other promotional materials.
Bags made custom to your exact specifications
Spot or Process Print
Bags can be ready as quick as 3 weeks
Custom Size:
We stock a large inventory of so many different size bags, yet when packaging a uniquely shaped product, it is sometimes a challenge to find the right bag. That is where custom size bags come into the picture!
By simply letting us know the following, we can help you with a quote right away:
Width - The side of the bag that contains the zipper / opening
Depth - Full width of the side gusset area, when the gusset is fully open
Length - Length from the bottom of the bag up until the zipper
Gauge - The thickness of the bag, measured in Mil (a thousandth of an inch)
Click here for help with measuring your bags.
Bag Types:
Bag Features:
Don't see the feature you're looking for? We have many more custom capabilities, just give us a call!
Have any questions? Call us at 718.686.1120 and we'll be happy to assist you.