Stretch Wrap Film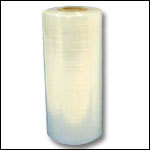 Our stretch wrap film is used for wrapping and securing items during shipment. Blown, clear stretch wrap film provides a strong barrier to prevent punctures and tears caused by sharp edges. It rolls on smoothly and keeps loads from shifting during shipping and transport.
Additionally, our plastic stretch wrap clings tightly and securely to itself which makes for easy wrapping, protecting shipped items from dirt, moisture and weathering. Here at Royal Bag, we offer stretch wrap film in all standard sizes.
Clings tightly to itself
Keeps products free of dirt and moisture
Keeps load secure
Other standard sizes are also available - Please inquire!
Loading.....
No products are currently available in this category.