Biodegradable Ziplock Handle Bags with Recycled Material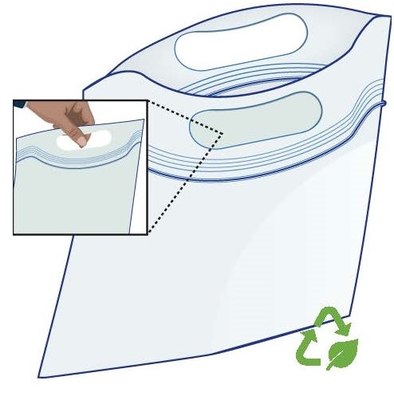 Biodegradable Ziplock Bags with Handles
These zipper bags with handles feature a built-in, die-cut handle and are great for carrying merchandise after shopping. They're also the perfect bag for businesses to use at trade shows and conferences. Since these zipper bags are resealable, they'll keep items contained while traveling. Additionally, our biodegradable ziplock bags are biodegradable and made with 30% recycled materials, making them more environmentally friendly while maintaining the highest level of quality.
Die-cut carrying handles allow the bag to be held comfortably, just like a shopping bag. The 8x7 bags are a popular size for airports because they meet the TSA's bag size regulations for bringing liquids onto the airplane. The 9X12 plastic bags are also perfect for professional sporting events because they meet the NFL's guidelines for clear stadium bags. These plastic bags are ideal for keeping items secure at games while also allowing for quick passage through security.
All of our ziplock handle bags are fully customizable. Custom ziplock bags printed with your company logo help make a professional first impression at conferences, trade shows, and other industry events.
30% Post Industrial Recycled Plastic
Die cut handle
Biodegradable with D2W additive
Trade Show and Stadium Bag
Loading.....
No products are currently available in this category.
Filters:
No filters available
No products matched the filter(s) you selected.
Name
Case of
Price
Reg.
Sale:
As low as:

Out of stock


Expected date:
Notify me
Reg.
Sale:
As low as:
Environmentally friendly biodegradable plastic bags
RoyalBag is focusing more on our environmental footprint, without sacrificing the quality that you're used to receiving with our products. Now, all of our ziplock handle bags are being made from 30% recycled materials. Our biodegradable bags maintain their same feel and quality because we mix the recycled materials with virgin polyethylene scraps. In this way, RoyalBag is combining the best of both worlds. We're striving to be eco-conscience while also bringing you high-quality products.
Our die cut handle merchandise bags are produced with a D2W additive which make them biodegradable.
What is a D2W additive?
D2W is made from a by-product of oil refining which used to be wasted, instead of wasting it, we now produce plastic instead of flaring it off. This D2W is added to the plastic in these stadium die cut handle bags which renders them degradable. D2W degradable plastic can still be reused and recycled. The bonus of it is that it will also degrade much quicker and disappear completely in a short timeframe, leaving no harmful residues in our landfills. D2W bags meet the eco-toxicity requirements for EN 13432.
Purposes for plastic bags with handles
Our clear plastic bags with handles can be used for a wide variety of purposes, including:
Plastic gift bags
Our plastic bags make for the perfect gift baggies for any event! Whether you're celebrating a bridal shower, a birthday party, or a graduation, our packaging gives you the flexibility to create a large number of gift bags for your guests.
Fully Customizable plastic bags
Our plastic handle bags can be completely customized to fit perfectly with your brand or business. These custom zip lock bags are ideal for your business to hand out at trade shows or conferences when giving out samples of your merchandise or products. By putting your logo on the bag, you're sure to leave a lasting impression on potential customers.
Perfect for packing lunch in
Our resealable plastic bags with handles are great for packing a lunch in as well. The die-cut handles make them easy to carry comfortably down the hallway to the cafeteria or from your office to the break room. The resealable zipper helps to block food items from escaping the bag to avoid dirtying your backpack, purse, or briefcase.
Our small ziplock is ideal for traveling
Unfortunately, going through security at airports can be a hassle if your bag isn't packed appropriately and your liquid substances aren't separated from the rest of your belongings in your carry-on luggage. Luckily, our plastic bags make it simple for you to separate your liquids in advance. Our 8x7 is the perfect size for packing your cosmetics, liquids, or food items into before you go through security at the airport. The packaging also makes the plastic bags easy to find as you search through your carry-on.
Great for restaurants or bakeries
Our clear poly handle bags are also great for take-out from bakeries or restaurants. The die-cut handles make it simple for your customers to carry their food out.
Affordable prices for wholesale plastic bags
We offer numerous buying options for you and your business to purchase affordable packaging, and our wholesale pricing will save you money. Please check above to see our various options for bag sizes along with the quantity available for order.