Expansion Poly Mailers with Bottom Gusset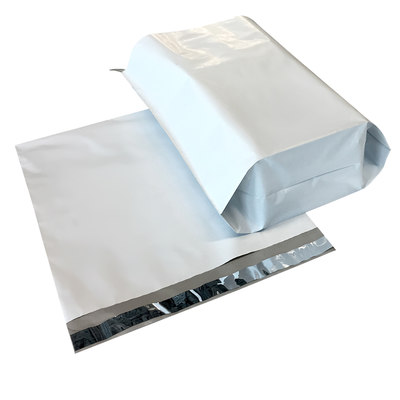 RoyalBag's expansion poly mailers are the ultimate fix for safely shipping large, bulky items. The mailers are tear-resistant and extremely durable, have a self-seal closure, and are tamper-proof.
The gusseted bottom, inner lining, and high-strength seams ensure that thicker items such as binders, books, catalogs, stuffed soft toys, etc. won't puncture the mailer during shipping. These poly mailers are water-resistant and repel moisture to ensure your items will arrive safely at their final destination.
The expansion poly mailers allow your business to ship more items at once due to their gusseted bottom and durable design, allowing your company to reduce waste and making the mailer more environmentally friendly.
Gusseted Bottom Features:
Expandable poly mailers have high-strength seams that keep contents intact even if overpacked.
The expandable bottom allows for shipping bulky items to be shipped safely.
The gusseted poly mailers are both tear and puncture-resistant.
Tamper Evident design to ensure your product arrives safely.
Labels and stamps adhere easily to the outer surface.
Mailers have an off-white/light grey outer surface color and a silver inner lining to conceal the mailer's contents.
Mailers are lightweight, which helps to reduce shipping costs.
Expandable Bottom Gusset Sizes
Not only does the mailer itself come in a variety of sizes, but RoyalBag also produces poly mailers that have different bottom gusset sizes. The expandable bottom gussets range from 2" - 5." Due to the variety of sizes, the expansion mailer allows for numerous kinds of items to be shipped. The expandable gusset can fit 20-40% more than a regular poly mailer.
Poly mailers are available in numerous sizes and prices. No matter what you're shipping, RoyalBag has the mailer for you.
Loading.....
No products are currently available in this category.