Clear Silverware Bags 3.75" X 10"
Item #: SB03.7510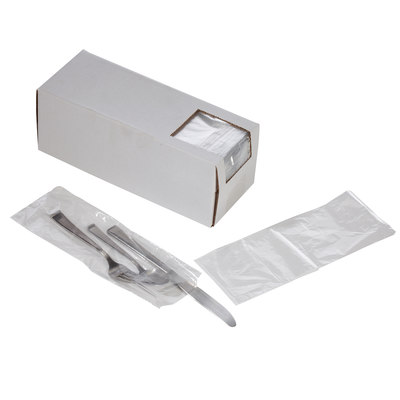 ---
Width:
3.75 inches
Length:
10 inches
Thickness:
0.65 Mil

(0.00065 inch)

Color:
Clear
Material:
Polyethylene
Overview:
3.75 X 10 Clear Silverware Bags are packed in dispenser boxes for ease. Made of 100% virgin 0.65 mil Low Density Polyethylene (LDPE) plastic film. Quick loading flip top flap (1.5") closes bag without tying or sealing. Meets FDA and USDA specifications. Used by takeout and caterers for quickly placing utensils and silverware in bags.
Makes food packing quick & easy.
Keep your food fresh!
Custom print your company logo on all plastic food bags as great publicity!
View all Silverware Bags sizes
---
Reviews: