Poly Bubble Mailers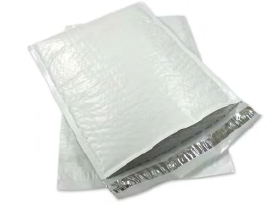 Royal Bag's selection of poly bubble mailers contains water-resistant and tear-proof bags which will give you a safe and reliable option to ship your products. Each bag features easy-to-use, self-seal adhesive closures and is tamper evident. The 3/16" bubble lining gently cushions and protects the items inside, making them a great shipping solution for products that need a bit more protection than a standard envelope. Its smooth surface is perfect for handwriting or labeling.
PLEASE NOTE: THE LISTED SIZE IS THE USABLE DIMENSIONS. There is additional plastic on the sides for the seams which varies between 3/4" to an inch. There is also an additional lip which is not included in the listed length and varies from 1.25" - 1.75".
We appreciate your interest in the poly bubble mailers offered by the team at Royal Bag. If you have any questions at all, reach out to us. Our staff of friendly, professional team members will gladly help you with anything you may need.
Tear and puncture resistant
High strength seams allow for overstuffing
Easy to use peel and seal closure
Tamper Evident designed to ensure your product arrives safely
Loading.....
No products are currently available in this category.