6 x 9, 2 Mil Biohazard Specimen Reclosable Bags with a Pouch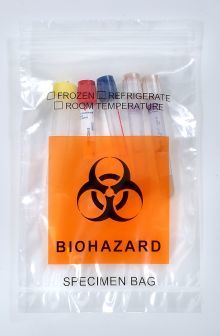 Width:
6 inches
Length:
9 inches
Thickness:
2 Mil

(0.002 inch)

Material:
Polyethylene
Overview:
Our 6 x 9, 2 Mil Clear Biohazard Reclosable Bags come with an outer pocket called a Pouch for holding specimen documents and paperwork. These 6" X 9" specimen samples ziplock bags for safe storage or transport of medical specimens are damp proof & moisture proof. Printed with the biohazard symbol on the front of the bag. Depending on the quantity of bags, we can have the Biohazard Bags custom manufactured for your laboratory or health care facility according to your specifications. Find out more about your custom plastic bags options!
A Top quality recloseable medical specimen bag with a high quality zip that protects your sample.
All virgin polyethylene meets FDA and USDA requirements.
Our medical plastic bags are useful in laboratories and in hospitals to securely transfer specimens and paperwork.
---
Reviews: